1/4 Mile – Dragrace Drachten – The Main Event 2019

Important info about this event:
https://dhra.nl/?p=3452&lang=en
1/4 Mile – Dragrace Drachten – The Finals 2019
Dragrace Drachten continues in August & September 2019
The biggest dragracing event in the Netherlands.
When: 20, 21 & 22 September (The Finals 2019)
Location: Airstrip Drachten
Entrance for adults € 10, –
Children up to 12 years free entrance
Parking € 2, –
Time table:
Friday: Qualification from 15:00 to 22:00
Saturday: Qualification from 10:00 to 20:00
Saturday: Night Show from 20:00 to 22:00
Sunday: Finals from 10:00 to 17:00
There is a bouncy for the children.
In addition, a number of demos will be given by, among other things, a Top Fuel Bike and a Funny Bike.
There are several companies stands and of course there is also catering for a snack and a drink.
Buy your tickets online at the ticketshop.
Day tickets give access for 1 day to the following event:
20-22 September 2019 DHRA The Finals 2019
When tickets are bought in advance, no parking costs for a vehicle will be charged.
You can win various free tickets via the Facebook page of Dragrace-Drachten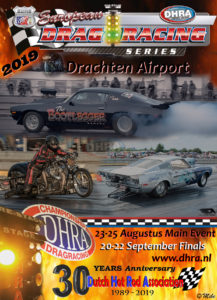 EDRS Promo 2015:
Important email addresses:
For general information you can send your mail to: info@dhra.nl For technical questions you can send your mail to: keuring@dhra.nl
For other contact information you can select the button Contact in the menu.
Tony Rowe Enterprise,
Partner van DHRA